I joined Coeo's support team last year, and this has been the first time I've really had the chance to pause and take stock of how the support role works. I have spent the previous decade working as a SQL Server DBA contractor, so I have been fortunate to work on a variety of projects and experience different company cultures across multiple industry sectors.
Typically, when you join a new company, you spend a bit of time learning your way around the database/server estate don't you? I thought so too, but as Coeo provides specialist support for many clients, some of whom have several different environments (production, various testing environments, etc.), this is more like joining 60 companies and learning all those environments. I've been exposed to many different environments and had the opportunity to see clients running Windows 2003 and upwards, and SQL Server 2008 upwards even in the short time I've been working at Coeo. We have clients using entirely on-premises with physical servers, local VMware installations, hybrid environments involving on-prem, and even some environments that are totally cloud-based.
To ensure we work on a variety of projects and to have a good mix of skills and experience in the support team, we're divided up into three "pods" of engineers. Each pod has a mix of experiences - from those who are just starting out in our careers, to grizzled veterans with over 25 years' experience of SQL Server. Each pod is allocated its own group of clients and the pod engineers will get to know those environments well. The bonus is that due to the nature of the work and team structure, everyone will get work with all of the clients.
When you join the support team, you are allocated to one of these support pods; I'm in Pod 3. The majority of my time over the first few months was to get a good grasp of basic support ticket work - we have a dispatch role that manages the schedule, and you work on what's in front of you. These tickets are generated by various monitoring systems. Clients have the ability to email queries directly into the support mailbox, so no two days are the same! Over the first few weeks you might find it's a hectic whirl of picking up a ticket, finding the right client information, having a quick read of the internal documentation to see what's what, getting into their environment using whichever authentication method they require, and then finally getting down to work. It's quite normal, and this can be a bit disorienting, given that these systems are for so many different clients, and they each have their own ways of doing things - even within different servers or sub-domains. The team are always there to lend a hand and point you in the right direction though!
Once you've identified the problem and solution, you need to write up a response to the client. This could be something like a straightforward SQL Agent job failure, or a root cause analysis for an outage; it might be something more complicated such as "why is this procedure now taking so long to run". For the first few weeks, this will need to be checked over by one of the more senior engineers - just to make sure that your response includes everything the client needs to know, the overall communication works with Coeo's style. This is also a good time to get to know the senior members of the support team, as they'll be the ones checking your work.
If you need help with a problem, a member of the senior engineer's team is on hand to provide assistance. This is a regular part of the job for the senior DBA team - nobody knows everything, and there's no shame in asking for help. The escalation team keep track of issues that get raised in order to identify common issues and problem areas. This information is then used to identify training opportunities – for both engineers and clients.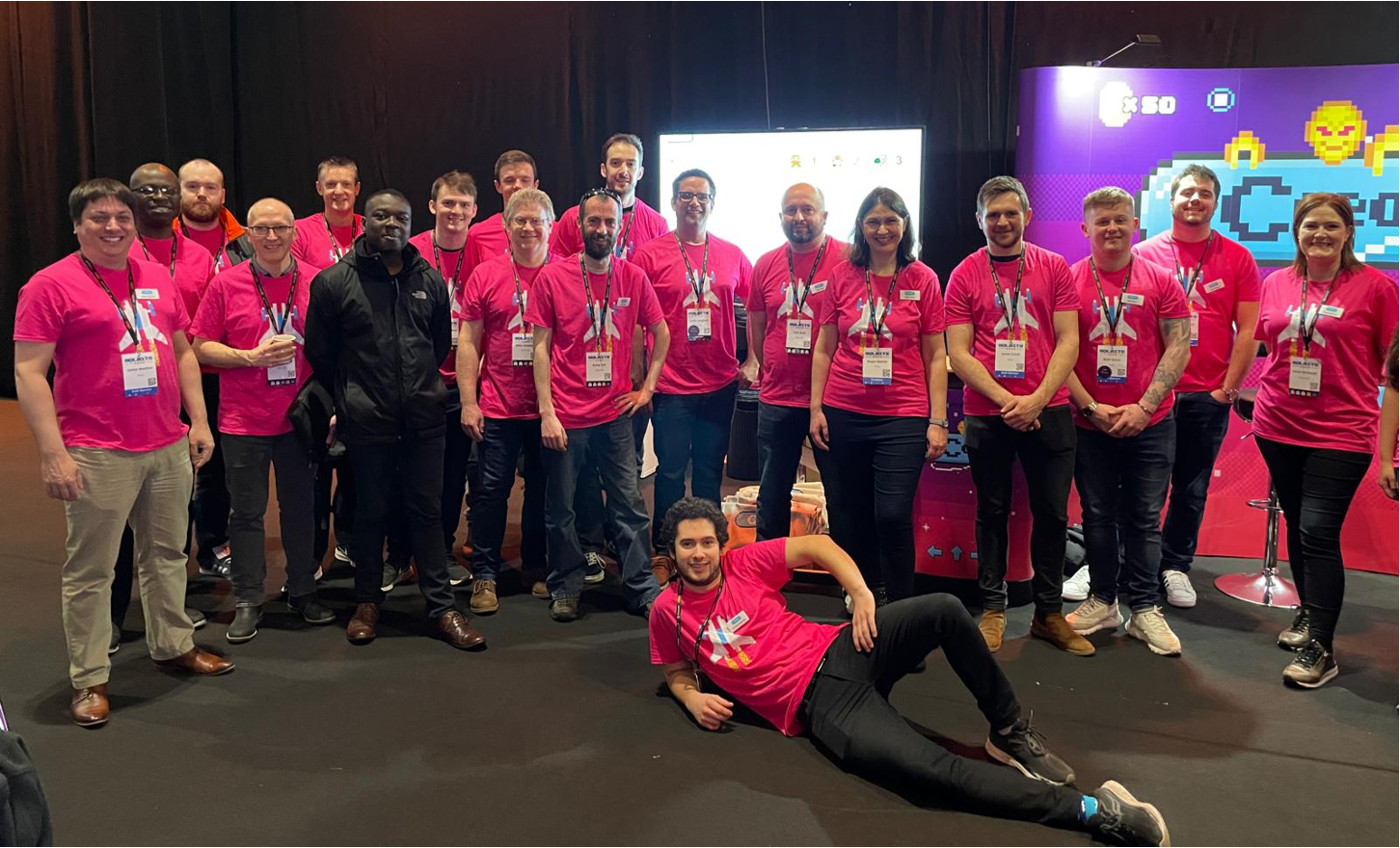 The Coeo team at SQLBits 2022
That's the day-to-day work. Coeo has a strong focus on personal development and the company encourages you to take time each week dedicated to your own personal development. It is absolutely expected that this time is booked during the normal working week. I've found that they really encourage a healthy work-life balance at Coeo, we take a proper lunch break, and book that into the schedule so everyone knows when you're not available.
If you have interests or experience in particular areas, you may find yourself more involved in challenging, long-term client activities. For example, in my first week, I was assisting one of our senior engineers with some especially problematic replication issues. A few weeks later, I was working on an in-depth performance review identifying hardware and software configuration issues as well as the more usual indexing and statistics problems.
The atmosphere inside the company itself is harder for me to assess, as I'm home-based. For the last two years, most of us have been affected by the Covid lockdowns where people have been advised to work from home - but I'm based from home anyway, so I've only spent a few days in the office. I have seen and taken part in regular online team meetings during which we discuss issues and big-ticket items, catch-ups with your line (pod) manager, monthly "lunch & learn" sessions, a monthly "beer o'clock" where teams share their monthly successes. There is plenty of opportunity to see what's going on and to provide feedback.
There is a program of non-work-related activities which is open to all. Coffee morning chats, and "active-22", which encourages us to get out and do stuff – a steps challenge for the team to walk from Lapland to the office during Advent, for example. In-person activities are starting to pick up again, such as payday drinks, sessions, activities where we can meet up out of the office. The whole company gets together a few times a year for an annual kick-off meeting, the Christmas party, and a summer BBQ!
I hope this post has been of use to those of you thinking of joining Coeo. I shared my experiences with a friend who was about to join the team - he says he found it very helpful in preparing him for what to expect on his arrival, and he is now working on one of those big long-term tickets dealing with major performance issues that I mentioned earlier.