We support businesses who rely on data and cloud to achieve their growth goals through professional services, including our 24x7 service desk, proactive monitoring and alert response that augments their in-house teams with expert data and Azure skills. The success criteria for any relationship is subjective, varies between organisations and should be agreed collaboratively.
Motives for choosing a managed services partner
Organisations engage a partner for a variety of reasons, often they're looking to augment their existing in-house capability, and their motives fit broadly into two groups:
Capability - such as technical expertise in rapidly solving complex technical issues, utilising mature and effective monitoring as well as optimising solutions to deliver value from data and cloud consumption (spend)
Capacity - many organisations have technical skills, albeit limited supply and workload demands they scale these highly skilled individuals across business change and engineering projects as well as sustained operations requirements
Many organisations have both capability and capacity requirements and require a partner to assume operational responsibility, provide burst project delivery capacity, thus freeing employees to focus on business change initiatives. Understanding the motives for engaging an external specialist is important in determining how to measure the success of the relationship.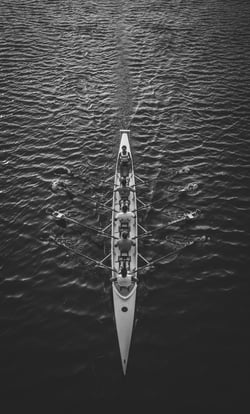 Measures of success
There are many different ways to measure success of a managed services partnership, agreeing which metrics are focus areas and which are secondary is important for both parties to have clarity. ITIL defines a number of typical key performance indicators including number of incidents, time to first response, time to resolution and number of escalations. These KPIs can be a good starting point, but often aren't sufficient to cover the full spectrum of measures required for partnership sentiment and success.
How Coeo do it
The service we deliver at Coeo is provided on a fixed-price basis, as such we're driven and motivated by the same metrics as our customers, which is ensuring their environment is available and performing as required. We're keen to detect problems early in their lifecycle (they're easier and less stressful for us to resolve before system availability/ performance is impacted), we're also driven to measure and improve first time fix (we don't benefit from the same incident occurring repeatedly). We also carefully measure how the incident was raised, i.e. was it detected by our monitoring or did we need to wait for a customer to call, and we classify each incident as proactive or reactive.
Working hard vs delivering value
Most service providers deliver endeavour, however this is not always equal to delivering value to the customer. Working hard isn't enough. One of the biggest challenges we work hard to overcome is having an outsourced service delivery function behave as though they're an employee. This means our team make decisions on behalf of the customer, as though they're employed by that organisation i.e. in the organisation's best interests. Frequently this means the solution we recommend isn't the easiest or quickest to implement, sometimes it involves difficult and complex decisions. We think about this in several dimensions:
Prioritisation - working a service desk role involves managing a ticket queue. Employees embedded in the business (mostly) instinctively know the priority of various incidents. Sometimes, an incident

during a crucial test phase

in a non-production environment, may be more important to the business than a production incident affecting a small departmental application.
Strategic - acting in the organisation's best long-term interest, by investing time to understand the root cause of incidents and applying long term solutions that improve performance and stability, not just treating symptoms.
People network - understanding the customers' organisation, their culture and roles and responsibilities. Getting things done as an outsourcer, can be tough - we don't line-manage internal people, and it is of limited use to abdicate responsibility or shift blame.
There's no magic bullet solution to engaging and delivering value, but we have built an engagement approach to build the communication, ensure multi-level relationships and strategic engagement to provide us both the best chance of success in our partnership.
Dashboards that deliver
We believe in measuring what matters, and we use the Microsoft data technology (including Power BI) we're most familiar with to report and visualise our service performance. There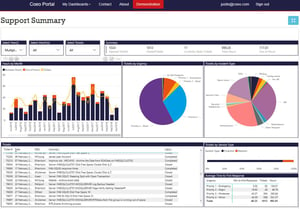 are a few key metrics that are useful to all customers, which are typically time to first response and the balance of proactive vs reactive. We consider incidents to be proactive when our monitoring or engineers have identified an issue, or something that could become an issue. In all cases, we'll investigate and provide intervention where required to ensure continued performance and availability.
The portal screenshot that's included displays a sanitised dashboard, from a genuine customer. In this example, our support agreement started 2.5 years ago, and in this time we've completed more than 800 service tickets, 87% of those proactively. This means just over 100 of these tickets were created by the customer, and the balance by Coeo, as a result of our proactive monitoring platform. When customers care about outsourcer proactivity, we use this dashboard to demonstrate our performance.
Cultural alignment
The final theme to highlight on the topic of measuring success of outsourcing partnership is cultural fit. Culture compatibility is hard to measure yet critical to partnership success. When we share organisational values with our clients, it's easier to talk about what's important, overcome difficult challenges and work better together. We only used to discover cultural fit once a support contract had started. We were lucky - many of our support customers were initially consulting customers, they liked how we worked delivering solutions and they retained us to manage and optimise the environment we had designed and built. Since we identified how important our values are to clients, we published our values and started talking about our value much earlier in our relationship. This helps us both identify where there's alignment and talk through any differences.