The Coeo team decided to transform the way we process marketing leads from industry events by turning a paper-based process into a PowerApp. Big Data LDN 2019 was the perfect place to test our new system.

What is PowerApps?
PowerApps is Microsoft's response to the trend of enabling users to build apps very easily. The idea of this tool is that you have to write very little or no code in order to create an app that speeds up or simplifies an existing process in your organisation.
PowerApps is ideal for making an app out of something that is currently a paper-based or manual process and could be automated. Before, this could have incurred significant development efforts or gone on to a development backlog that suffered from low priority. Now, "Citizen Developers" (formerly known as "Power Users") can create tools through a self-serve platform.
PowerApps forms part of the wider Office 365 suite of tools, so if you're a heavy consumer of Office 365, it sits ideally within your existing application stack.
A time-consuming process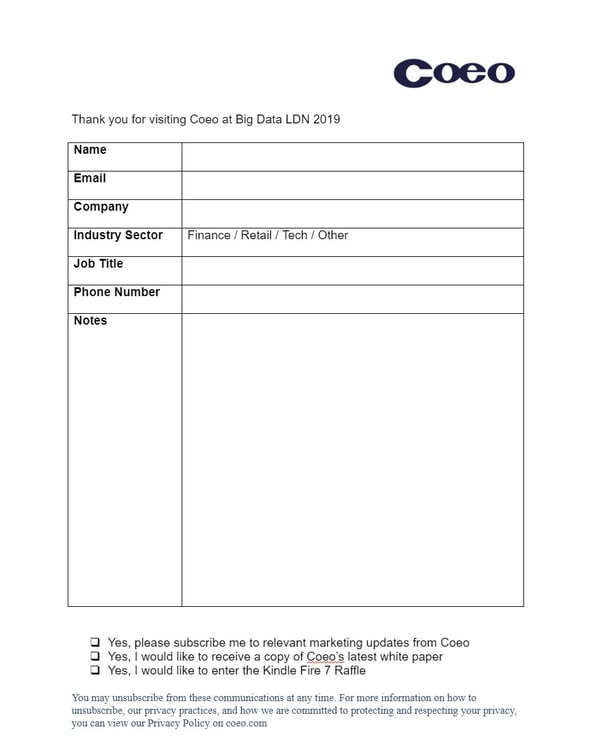 The Marketing Team's original process for lead capture at trade events was to supplement information given by a traditional lead scanner with paper-based forms. In a typical show, over two days, they might get 100 of those forms.
Whereas in the old days Coeo may have directly inputted them into our CRM, we now have GDPR considerations – we need to check permissions and we need to keep quite a detailed record. So, each of those 100 forms would need to be scanned by hand, then inputted into Excel. The digital scans would need to be stored in a confidential file to prove that individuals had given permission to process their data.
Not only was this incredibly time-consuming, the team also faced issues with accuracy; interpreting people's handwriting can be difficult and show attendees didn't always tick the permissions box as they were busy. There were also concerns around accuracy, data protection and storage.
That was the challenge Coeo had – which we needed PowerApps to solve.
Digitising lead capture with PowerApps
I spoke to Lexi Turner - Coeo's Marketing and Communication's Manager - about her team's requirements, before recreating their paper-based form in a mobile app that could be deployed to any mobile phone.
When a user takes down a lead's details and hits the app's "submit" button, the record of that lead is stored in an Azure SQL database, which is running in Coeo's Azure subscription. This includes all the security aspects that you'd expect, including role-based access control as to who can access the data and ensuring that it can only be exported by certain people. The advantage of storing it in a database is that it can be exported to a standardised separator value file, which can be imported into Hubspot and our CRM system.
The advantages of a digital process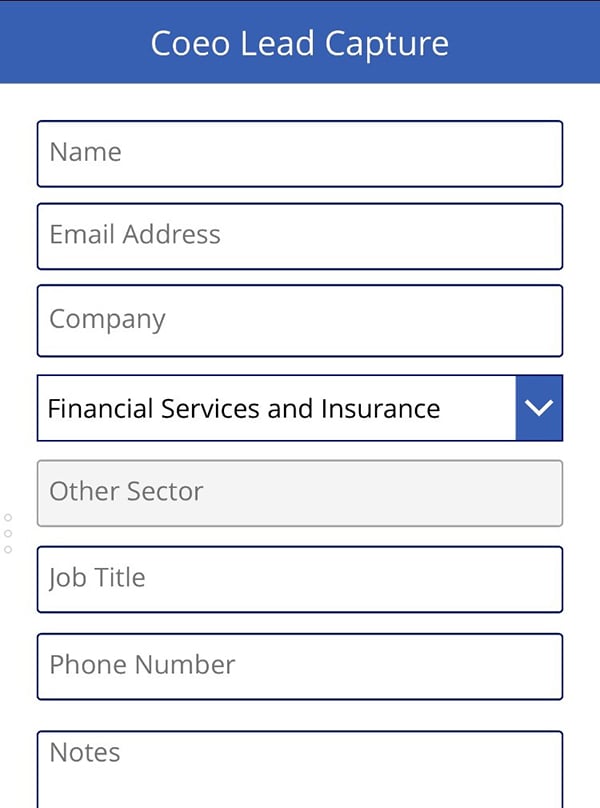 The new app enabled Coeo's stand team at Big Data LDN to input information from leads in a standardised manner, through the use of mandatory fields and ensuring that a minimum number of these fields were completed.
The app I created also included checkboxes, so that they could ensure that they had the right permissions in place to send out marketing materials and whitepapers.
Life on the stand at Big Data LDN was made easier because the team didn't have to make paper-based forms available to everyone and there were no concerns about where to store information overnight or how to transport it back to the office.
Having the data in one database also made it easier to analyse or modify. All transactions are audited and the team can now produce an auditing report - if needed for information security or GDPR - plus any changes can be undone.
"The effectiveness of marketing follow-up is all about speed," said Lexi, "thanks to the PowerApp, our follow-ups went out within two working days of show end. Before, it would have been at least a week."
How Coeo can help
If you have similar, paper-based processes that you think would be ideal for turning into a mobile application, then Coeo can help.
Click the link below to find out more about our PowerApps Jumpstart: