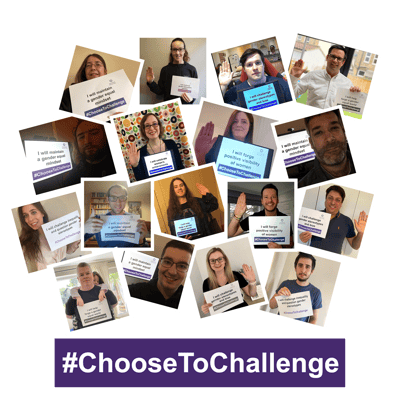 International Women's Day
is an important global day to celebrate accelerating gender parity. The Coeo team have made #ChooseToChallenge pledges and will run a fundraising quiz as part of this year's event.
Colleagues from around the business have posted selfies declaring their pledge to tackle inequality, such as calling out bias or celebrating women's achievements.
Members of the Diversity and Inclusion Team have organised a lunchtime quiz to raise funds for Berkshire Women's Aid - an organisation that supports women and their children who are affected by domestic abuse and violence - with Coeo pledging to match any funds raised.
Choose to Challenge
Since 1911 International Women's Day has been used to celebrate the social, economic, cultural and political impact of women, as well as raising awareness of issues around equality.
This year's theme is "Choose to Challenge" and encourages individuals to make a pledge to call out inequality and bias, and celebrate women's achievements.
Improving Equality at Coeo
Over the past six months we have been taking proactive steps towards making Coeo a more inclusive place to work.
Every member of Coeo has completed Microsoft's Unconscious Bias training and representatives from every team have joined our first Diversity and Inclusion Group.
We have also worked to relieve the pressures of lockdown on all members of staff by implementing more flexibility in the day as we know that parents of all genders can take time out to help with homeschooling.
Our Next Steps for Diversity
The Diversity and Inclusion Group are currently looking into ways of being more inclusive of individuals with different pronouns.
We will also be running more Training on confronting bias in the workplace and how to have more inclusive conversations from Microsoft's LinkedIn Learning paths and Accessibility Fundamentals. We will also be celebrating more diversity and inclusion events coming up.