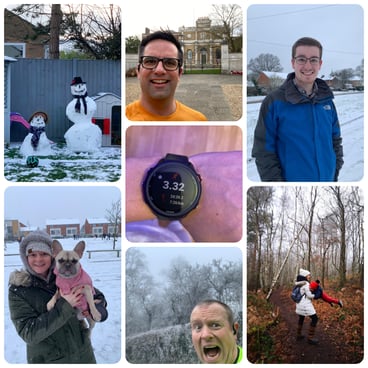 People from across our teams at Coeo have run, walked and cycled nearly 2,000 miles on a virtual tour of customer sites as part of the Active-21 Challenge.
Why is exercise important?
According to the NHS, exercise can not only improve our physical wellbeing, but mental health too. Physical activity can reduce stress and boost mood and self-esteem, as well as cutting the risks of developing long-term conditions.
A study conducted in 2020 by IES discovered a significant increase in musculoskeletal complaints and a bigger risk of exhaustion among the UK workforce as a result of working from home.
We needed to ensure that the Coeo team were able to keep their physical and mental health on track while they were unable to come into the office.
A focus on movement
Towards the end of 2020, we saw in our employee engagement surveys that Coeo wasn't doing enough to encourage people to be active while working from home.
Before the pandemic, Coeo supported staff members with boot camp classes near the office and promoted all activities based at Winnersh Triangle, such as yoga and 5-a-side football. The impact of the pandemic and working from home saw access to all of this stop. We have also heard that employees felt that their working hours were growing longer due to having to book time to catch up with people, as opposed to having kitchen or desk conversations, resulting in an increase in sedentary behaviour. Because of this Coeo decided to introduce some changes.
The first change that Coeo brought in was to introduce a daily 30-minute exercise break. We recognised that staff members felt guilty taking time out to step away from their desks and this new scheme provides them with time to focus on their physical wellbeing.
We also partnered with our employee benefits provider, Unum, to provide our teams with webinars on Resilience, Movement Matters and Lifestyle Management where there was also a focus on how the pandemic has impacted our health and wellbeing. These sessions give them helpful tips, tools and resources to ensure that they maintain a healthy lifestyle and appreciate why movement matters throughout the day, especially through the pressures of lockdown and working from home.
Active-21
Out teams at Coeo love a goal, so I knew that setting ourselves an exercise challenge would be the perfect way to get team members away from their screens.
We decided to set the goal of travelling a virtual route around our customers, with a monthly target of 660 miles each month (as well as personal targets set by individuals). This could be completed however the individual wished - running, walking, cycling or rowing.
We do have people in Coeo that are active as part of their daily routine anyway, but we know that the closure of sports and leisure facilities has had an impact on their ability to train. So to get everyone motivated and back into a routine again, we kicked off with a talk from Tom Boother. Since getting into running at college he has finished some of Europe's longest races. He then came up with an idea to run from Land's End to John O'Groats. The 862 miles took him 15 days, 18 hours and 19 minutes. He used his incredibly inspirational story and experiences as a long-distance runner to explain how to "start and finish anything".
We also provided a guide to help people get started, including links to Couch to 5K.
The journey so far...
In January the 31 Active-21 participants completed a whopping 1,641 miles - smashing our monthly target by 981 miles! They have braved the harshest weather conditions of the past few weeks to achieve their goals and more.
But, most importantly, the Challenge and WhatsApp group have united the Coeo team and we've seen the wellbeing score in our engagement survey increase significantly.
The group have kept each other motivated by sharing miles and routes, and posting selfies. Each time someone completes a milestone they are showered with congratulations from the rest of their colleagues. It has also be lovely to see the whole family and dogs joining in on their walks.
Data Platform Senior Engineer, Ben Goode said: "Getting out into the cold and seeing everyone else doing the same helps us feel connected, even if we can't be physically nearby."
The team are on track to beat the Active-21 target for February and are looking forward to the arrival of warmer weather!
Justin Langford, Coeo's Chief Executive, said: "Getting out and exercising is a great way to feel energised. We've supported the whole team at Coeo to be more active to help the feel less stressed, more energised and happier."
More information
Here are some useful links for improving your physical wellbeing and setting exercise goals: