Your Power BI data model resides in one of two cloud services:
Power BI, or
Azure Analysis Services.
Which will you choose? Read on....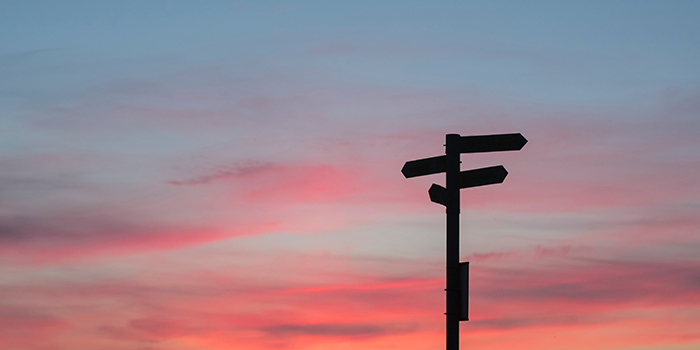 You licence Power BI via:
Power BI Pro, or
Power BI Premium.
Therefore, you have three choices for your data model:
Power BI (Pro licensing)
Power BI (Premium licensing)
Azure Analysis Services
So far, so good?
You must answer a series of questions to select the best option for you and your customers.
Q1: Resources
A Power BI Pro licence without Premium has the following limits:
1 GB per dataset
10 GB per user (all datasets)
Eight refreshes per day
You encapsulate all data sources within a Power BI PBIX file to a single dataset when publishing to the Power BI cloud service. If you haven't purchased Power BI Premium, that dataset can be 1 GB maximum. The 1 GB is after compression by the Power BI in-memory engine, so your source data might be significantly larger than 1 GB.
Are those limits acceptable for you? Write down your answer and move on.
Q2: Premium Features
Resources is only one reason you might choose Power BI Premium. Purchasing Premium unlocks additional features that might be a powerful incentive for you:
Paginated reports
Multi-region in Azure
Incremental refresh
Allocate dedicated resources
Tools to monitor performance and resource consumption
Power BI report server
Are any of these features a requirement in your enterprise?
Q3: Lift and Shift
Do you want to lift and shift your existing on-premises Analysis Services tabular model and publish unchanged to the equivalent cloud service?
Q4: Cost
Example costs per month for 20 report creators and 100 report consumers are:
Pro: £900 ($1,198.80)
Premium: £3,926.60 ($5,194.80)
Azure Analysis Services: £3,108.95 ($4,162.60)
Explanation:
Report creators need a Power BI pro licence (£7.50, $9.99) regardless.
Report consumers are free with Premium, £7.50 ($9.99) with Pro or Azure Analysis Services.
I based the Azure Analysis Services estimate on a 24x7 S2 instance in North Europe. Your cost will differ as you can scale up, down and pause compute.
The Premium cost assumes one P1 SKU satisfies your performance needs.
A hidden benefit of Premium is the "paginated reports" mentioned in the Premium Features section above. Deploying all your paginated reports to Power BI could potentially allow you to decommission your on-premises SQL Server Reporting Services server(s) with the associated cost savings on hardware, licensing, patching, upgrading, HADR and maintenance.
The exact tipping point where Premium is more economical than pro is 503 users based on UK pricing. I would urge you to still consider premium with far fewer users for reasons I will explain below.
Does your budget allow for Power BI Premium?
Decision Time
Follow the decision tree: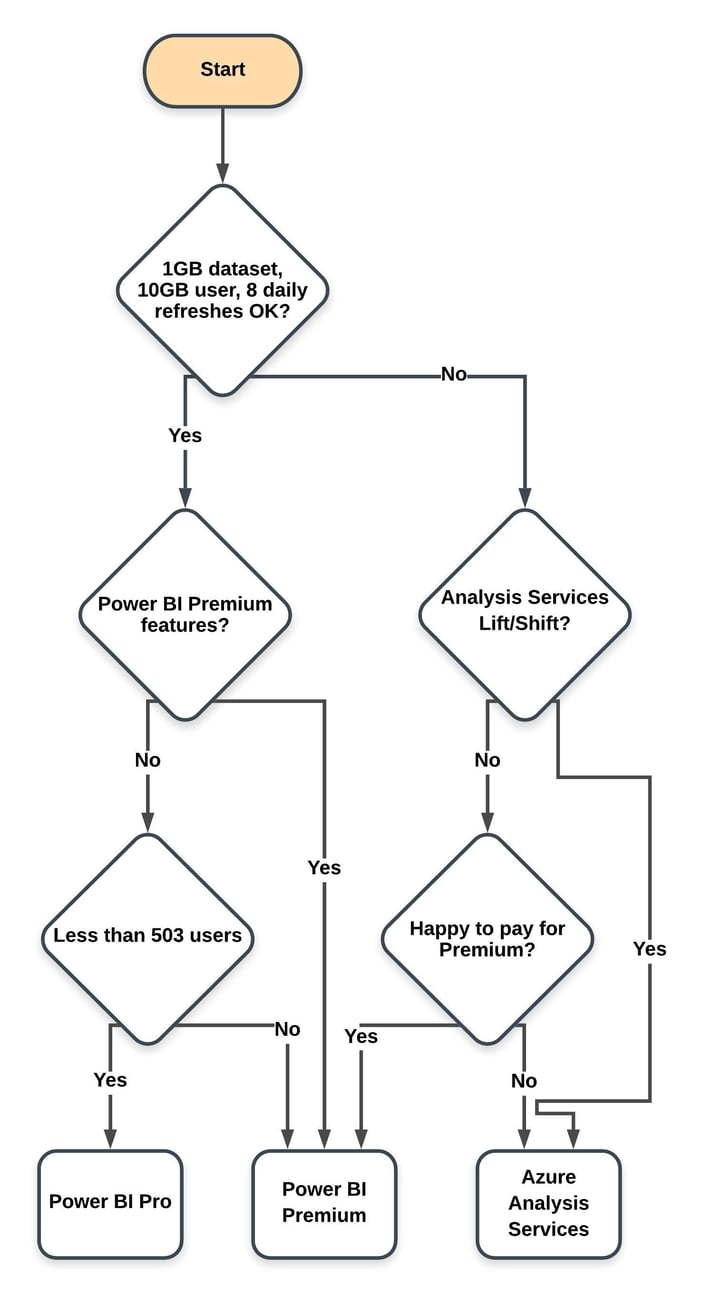 Regardless of the option you choose, always implement proper governance. Avoid data silos and implement a single version of the truth as I have written about before, the unseen dangers of Self-Service Power BI.
We have traditionally recommended Azure Analysis Services for an enterprise data model, but that has changed with recent advances in Power BI premium:
Large data models give Power BI Premium data size parity with Azure Analysis Services.
You can report from Power BI datasets in other reports, even across workspaces. This feature allows that all-important single version of the truth mentioned above.
Use third-party non-Microsoft reporting tools against Power BI datasets via the read XMLA endpoint.
A read/write XMLA endpoint is on the 2020 Microsoft roadmap to open Power BI up to all third-party tools, such as Visual Studio and monitoring solutions.
My advice now is Power BI Premium if your budget allows. Microsoft's goal is for Power BI Premium to be a superset of Azure Analysis Services. We already see this, with Microsoft releasing the following features exclusively to Power BI:
Composite models
Dynamic memory management
Bring your key
With Power BI Premium, you:
Have access to all features.
Future proof your solution, receiving new features first.
Future proof your solution, allowing large data models tomorrow even if you answered yes to the Pro limits being acceptable today. How much data will your organisation generate in the coming years (hint: a lot).
As Power BI explodes in popularity within your organisation, you grant report consumers access without asking for more budget.
The correct location of your data model is one decision of many you make when architecting your optimal Power BI solution. Coeo has a proven series of workshops to get your project off on the right track. We would love to help you, so please get in touch.