Have you ever wished for Power BI Premium features, but baulked at the price tag?
Microsoft recently announced Power BI Premium per User. If you're interested in Premium capabilities at a more affordable cost, read on.
Here at Coeo, we have helped many customers adopt BI successfully. During workshops to capture requirements and provide bespoke guidance, the question of licensing appears high on the list. Let us recap:
You license Power BI via:
Pro

– a per-user licence, every publisher and consumer must have a Pro licence.

Premium

– you purchase dedicated Power BI Premium capacity. Publishers still must be Pro, but report consumers can have a free licence.
Three reasons govern the choice you make, the three Cs of cost, capacity and characteristics:
1. Cost
As you can see in the graph below, one Power BI Premium P1 SKU and ten publishers are a little shy of a £4,000 per month fixed cost. Pro scales linearly at £7.50 per user/month until you reach a tipping point of just over 500 report users, when it is more economical to purchase Power BI Premium.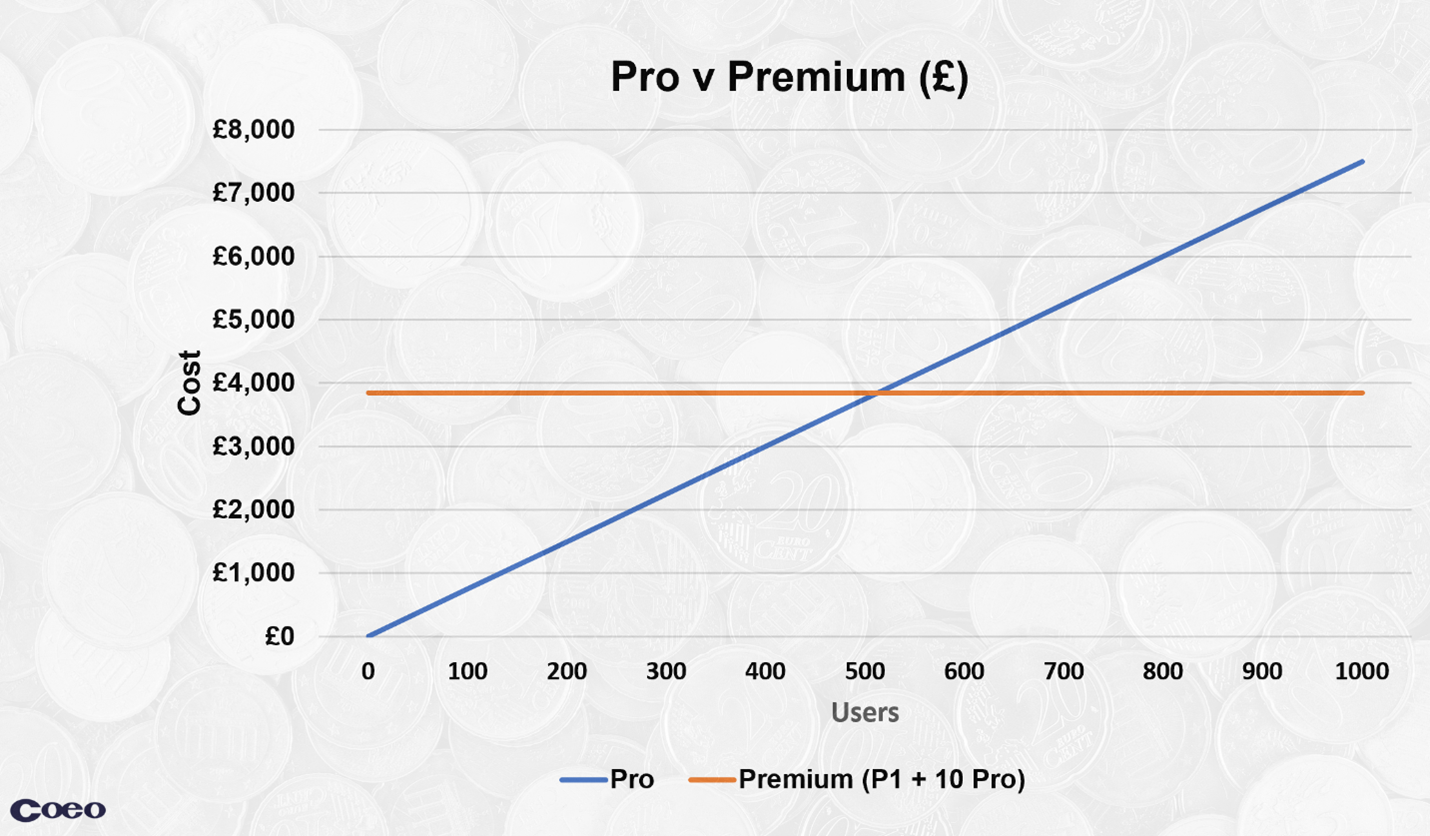 It is also important to note that your premium purchase includes a finite number of resources (cores and memory). You can't get a quart into a pint pot so a large enterprise might need more than one P1 SKU or a higher SKU.
2. Capacity
You are using shared cloud capacity when purchasing a pro licence, so understandably Microsoft imposes some limitations on you:
1 GB per Power BI dataset

Eight refreshes per day

10 GB per user across all their datasets
A Power BI dataset is an in-memory database optimised for the slick end-user slicing and dicing of data you will be familiar with if you use Power BI.
If the above limitations don't cut it, you must find an alternative. My recommended approach is Power BI Premium (which has far more generous allowances than above), but you have options here, such as Direct Query or Azure Analysis Services.
3. Characteristics
Premium gives you additional features, such as:
Paginated reports

– these are tabular SQL Server Reporting Services (SSRS) style row and column reports. You deploy such reports directly in Power BI, removing the on-premises infrastructure and maintenance to support SSRS.

Incremental Refresh

– only import data deltas and drive down your refresh time.

XMLA endpoint

– connect to Power BI datasets using tools such as SQL Server Management Studio or Visual Studio.
Power BI Premium Per User
We find at Coeo that companies stick with Pro for two reasons:
They are a small to medium enterprise and cannot justify the Premium spend.

They have already purchased Office 365 E5 that includes Power BI Pro and don't wish to make an additional purchase of Premium.
That was the story until Microsoft announced the public preview of Power BI Premium per user in Q4 2020. This option opens exciting new possibilities for small and medium businesses to join the premium party, without the large spend.
Q&A
Q: Where do I start?
Sign up for the public preview trial. There is a sign-up pause for US Thanksgiving, check the following link for all details https://powerbi.microsoft.com/en-us/blog/power-bi-premium-per-user-public-preview-now-available/
Q: How do I configure Power BI Premium Per User?
In workspace settings, move the slider to "on".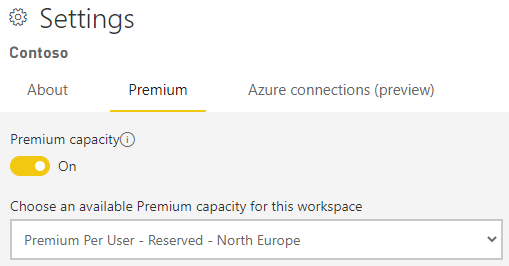 Q: What will it cost me?
Writing 30/11/2020 Microsoft has not published the cost. What we know is it will be more than £7.50 per user/month (existing pro licence), but way less than £75 per user per month (publicly stated). It must be viable for a medium-sized business of say 50 seats who won't pay £3,767 per month for the original Power BI Premium. That should give enough information to make an educated guess.
Q: How do I share content from a workspace backed by Power BI Premium per User capacity?
The same as previously, by direct share, workspace roles or apps. However, both the publisher and consumer must have a Power BI Premium per User licence.
Q: What if I change my mind?
Move the slider above to "off" and job done. Any premium content such as paginated reports remains in place, but no longer works.
Q: Will the original Power BI Pro licence option remain in the future?
Who knows? If "complexity is the enemy of execution" it makes sense on one level to simplify the licensing story. However, Power BI's phenomenal success is due in no small part to its low-cost barrier of entry. We will have to wait and see if our options change.
That was a summary of Power BI Premium per User. Sign up for a free trial today and experience the powerful features of Power BI Premium without a powerful impact on your wallet.