During the Microsoft Inspire 2018 partner conference, held in fabulous Las Vegas, Microsoft UK CEO Cindy Rose talked about the real challenges technology businesses face back home in the UK on digital skills, diversity and inclusion, and responsible and ethical AI. While we're a tiny part of the Microsoft eco-system, these topics are highly relevant to the skills shortage we face in our specialist area and the work we undertake around responsible handling of data, cloud and AI solutions.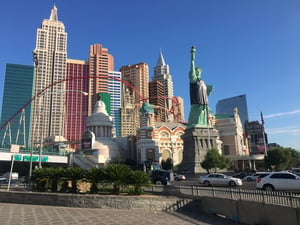 As such, I believe the pledge is a great initiative to focus the partner community on these key challenges and ask them to make a commitment to progress on these topics. We've signed the partner pledge and this blog is our public commitment to play a role, in our own small way, to making progress on each of these issues. Below, for completeness, is the commitment Cindy created, that we subscribe to:
Our organisation will therefore strive to, wherever possible:
• Ensure we are an ambassador of Microsoft UK's Digital Skills Programme:
Raise internal awareness of the Digital Skills Programme and take advantage of all opportunities to provide staff with new skills training;
Promote the Digital Skills Programme to customers.
• Ensure we are promoting Apprenticeships:
Review minimum requirements in selection criteria for early-in-career roles – particularly whether a degree is truly required or not;
Commit to at least one apprentice across one of the programmes offered through Microsoft's Apprenticeship Learning Partners in FY19;
Wherever possible look to ensure a diverse workforce;
Seek opportunities to inform young people about digital careers. e.g. by enabling past apprentices to visit schools and colleges, or by providing work experience opportunities.
• Ensure we are building AI in a responsible and ethical way, consistent with AI design principles such as:
Fairness – Use AI to drive efficiencies while protecting dignity and guarding against bias;
Accountability – Decisions made by AI must be accountable to citizens and consumers;
Explainable – AI must be explainable and understandable;
Ethics – AI must assist humanity and respect rights, such as privacy.