April 2017 brought an enticing update to Power BI with the release of Quick Measures.
This feature provides the DAX to perform complex data aggregations without a report writer or data modeller having to manually write code. Does this mean the end for the DAX developer who has spent many years learning their craft?
Before we investigate Quick Measures, this preview feature must be turned on in Power BI Desktop via File | Options and settings | Options | Global | Preview features
Enabling a preview feature is as simple as checking a box, we are now able to take advantage of Quick Measures. First, let us recap the purpose of DAX with a yearly sales report.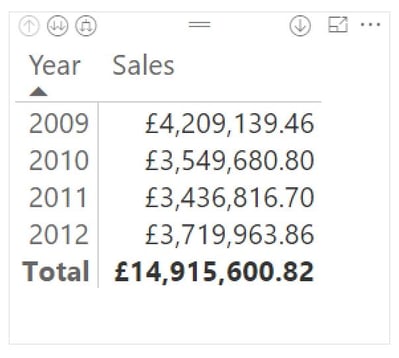 We can easily produce simple reports such as this without any DAX or custom coding. The complexity comes when we wish to add depth and value to the report by adding a Year-on-Year % change and KPI for example.
A right-click on the fields pane now gives the Quick Measures option: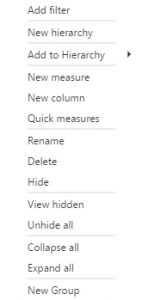 The Quick Measure is added via the resulting screen: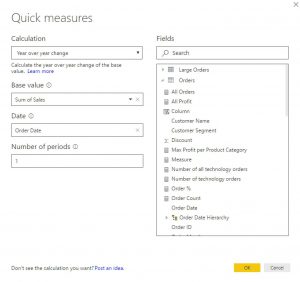 This automatically produces the following Sales YoY% DAX measure:
Sales YoY% =
IF(
ISFILTERED('Orders'[Order Date]),
ERROR("Time intelligence Quick Measures can only be grouped or filtered by the Power BI-provided date hierarchy"),
VAR __PREV_YEAR =
CALCULATE(
SUM('Orders'[Sales]),
DATEADD('Orders'[Order Date].[Date], -1, YEAR)
)
RETURN
DIVIDE(SUM('Orders'[Sales]) - __PREV_YEAR, __PREV_YEAR)
)
Adding this measure to our previous visualisation now shows the Year-on-Year % change. Also shown is conditional colour coding of -ve values and a Key Performance Indicator for a 5% growth sales target.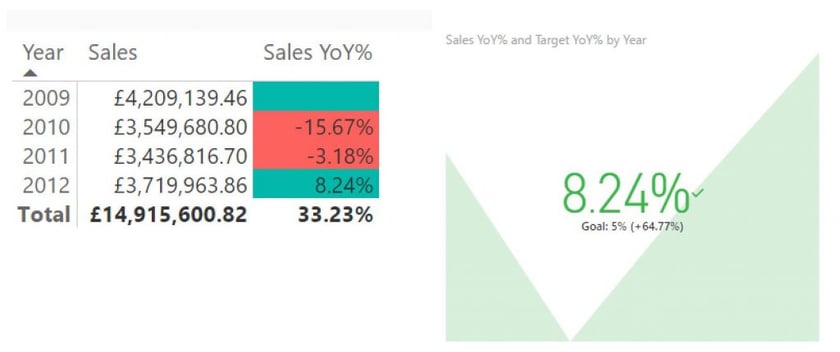 Quick Measures are currently available for the following calculation types:
Aggregate within a category

Average within category
Variance within category
Max within category
Min within category

Filters and baselines

Filtered measure
Difference from baseline
Percentage difference from baseline

Time intelligence

Year-to-date total
Quarter-to-date total
Month-to-date total
Year over year change
Quarter over quarter change
Month-over-month change

Running total
Mathematical operations

Addition
Subtraction
Multiplication
Division
Percentage difference
Summary
Power BI is the epitome of a modern software application:
Hybrid on-premises and cloud
Free version with paid for advanced features
No major version, we don't run Power BI 2017 for example
Very regular updates containing new features
The last bullet is the most exciting for report writers, new features such as Quick Measures float into the product with amazing regularity. Quick Measures are a great way to assist with learning DAX but are certainly not a replacement for it. Measures are automatically created, allowing you to study the resulting DAX and modify for your requirements. Only certain calculations are currently possible with Quick Measures, DAX offers far more possibilities. DAX is a powerful and elegant language that is an essential tool to maximise the value in your company data. It is certainly not yet time for DAX developers to go gentle into that good night.